All of us at some point have said, "I can't believe what I just saw". One example is if the Toronto Maple Leafs ever win the Stanley Cup. The conscious mind would not to be able to accept something so outrageous and beyond the realm of possibility. It is so much easier to believe in something that you never see – like all things religious. Religion is purely based on faith and actual scientific evidence is, well, scarce to say the least. Yet, people believe. So how is it that something as simple as economic data makes some economists disbelievers? That's exactly what's happening today; they see the data but they don't believe it.
I find it fascinating that economists are saying Canada's job creation numbers should not be taken at face value. Over the last two months, Canada has added more jobs than in any other two-month period in the last 31 years, with approximately 140,500 jobs added in March and April. Also, more full time permanent positions were added, meaning more Canadian workers will benefit from employer healthcare benefits. That's fantastic news! It's reason to celebrate! But no, economists are suggesting the employment numbers are not sustainable and our job numbers are uneven. As for sustainability, no kidding! But I guess if they say that often enough they'll eventually be right. As for the numbers being uneven – Alberta, for example, has the hottest job market today, while Ontario lags behind the rest of the country – that's another debate all together. Ontario's most recent numbers are clear evidence that the province needs real leadership. What was once the economic engine of Canada has now been reduced to the nation's punch line. Ontario aside, there's great news for the rest of the country. Quebec? Everyone was under the impression that the province was headed for another recession. Low and behold, the job numbers in Quebec are rising. Companies are looking for experienced workers – evident in the fact that more people aged 55 and older are being hired. Youth unemployment is still an issue, and Canada's jobless rate ticked up a bit to 7.3%. That being said, Obama would kill for those numbers heading into the presidential elections.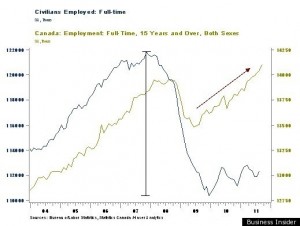 Canada's job figures appear to have caught many economists by surprise. The question is why? How can those in "the know" now claim that these numbers came out of nowhere. Of course, they can make that claim, but if they continue to get caught off-guard, their future predictions will fall on deaf ears.
Not long ago CAAMP's Chief Economists, Will Dunning, said to me that economists base their forecasts on their personality. They're either optimists or pessimists, and their forecasts will reflect their normal disposition. Based on their recent track record, maybe there should be a third category –Illusionist.